How To Increase Profits By Investing In A Professional Guillotine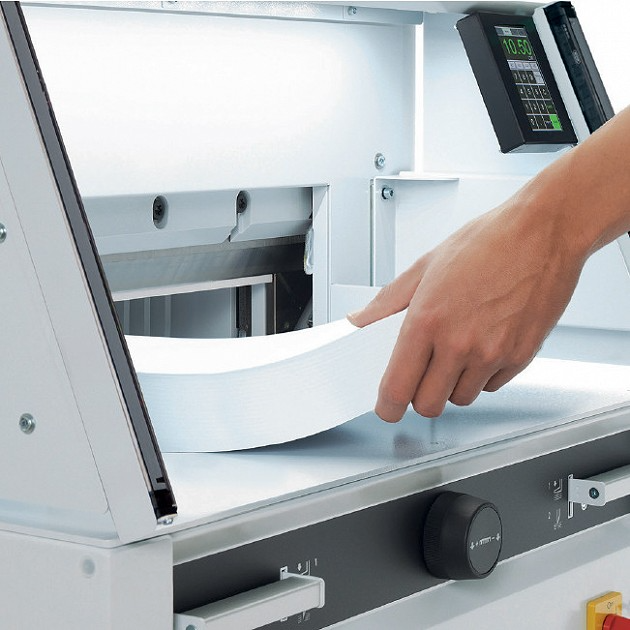 Whether you are looking to setup a new business, or wanting to take more control of your print finishing by bringing it in-house. We can help expand your opportunities and boost revenue with the introduction or upgrade to one of our IDEAL Professional Guillotine Cutters.
We at Elmstok have more than 45 years experience within the print finishing and document presentation market. During them years we have seen many changes, but one of the main pieces of equipment that is always needed within a print finishing environment is a reliable and accurate guillotine cutting system. A guillotine is a core piece of finishing equipment, which is why we offer a range of professional models to suit any customers requirements.
Elmstok have been a main dealer of Krug & Priester's branded IDEAL Guillotines for several years, supplying various industries including schools, colleges, printers, publishers, design & marketing agencies, wedding stationers, document scanner services, plus much more. IDEAL paper cutters are well-built, German-made machines with them being one of the safest, reliable, and precise systems on the market (and have been for many years). 
The IDEAL range offers a perfect cutter for every situation, ensuring the variety of demands are fulfilled. Not only are these machines used for cutting paper and card, but we have also supplied guillotines to customers that require other soft materials to be cut including fabrics, plastics, foam insulation, rubber, etc (please note that we always ask for samples to be sent to us for testing on a machine, to ensure it can safely be cut and meet the customers expectations, before they invest).
With paper and card prices soaring, especially during the last year or so, and on-demand (i.e. same or next-day) service being required more than ever, it is the 'ideal' time to invest in a guillotine and bring the work in-house. This allows you to have full control and not having to rely on outsourcing work. Therefore helping increase productivity for your business, while saving you third-party costs.
You also have the added opportunity of purchasing your required sheets in larger sizes, and then being able to trim these down to smaller formats (i.e. from A2 down to A3, A4, A5, etc.). This will of course save you money by purchasing larger sheet sizes for your various printed jobs. All of our new IDEAL guillotines are suited for cutting SRA3 work, which is a must for most digital printers. This includes the entry-level models IDEAL 4305 and IDEAL 4315,
We at Elmstok take pride in stocking a whole range of IDEAL guillotine models, to help meet the specific needs of our customers and to make sure we can offer on-demand delivery service for any urgent machine requirements. From entry-level, manual-operated guillotines (such as the popular IDEAL 4305), to our more advanced fully programmable guillotines (including the IDEAL 4860 and IDEAL 5560 models), we can help advise and offer you the best suited guillotine for your needs.
We also provide required HSE service contracts on all our guillotines, as well as spare guillotine blade and cutting-stick supplies.
As main IDEAL suppliers we can offer the most competitive prices, especially during these current tough times, with next-day pallet delivery available as well as full personal delivery, installation, and training (if required). If you are looking to upgrade then we can offer a trade-in against your working-guillotine, or collect and recycle your old machine if needed.
If cost is still an issue, when looking to purchase a brand new guillotine, then we do have refurbished and 2nd-user models available so please view our website for our latest offering or contact us direct on 01945 463434.